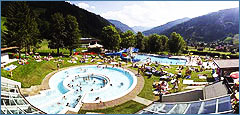 More information at:
www.solarbad.at
The alpine solar bath in Dorfgastein offers you funny baths in 26 °C to 28°C hot water. The bath facility lies in the sunny part of Gastein and is a "family bath".
It expect you Warmwater-, movement-, sport- and children pools, a large waterslide, a large play- and lying meadow, a solarium and also a sauna.