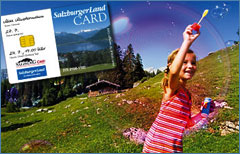 more:
www.salzburgerlandcard.com
6 and 12 day ticket
Available as a 6 or 12 day card, the SLC fits your vacation plans perfectly!
Integrated 24-hour SLC
Get the most out of sights of Salzburg City in 24 hours!
SalzburgerLandCard guaranteed:
The admission to over 190 sights and attractions throughout the Salzburger Land. A deal for families, along with children and youth groups!
Over 190 sights and attractions with just a single pass, guaranteed a range of vacation experience that couldn't be any broader!